PVHS Participate in FCCLA State Leadership Conference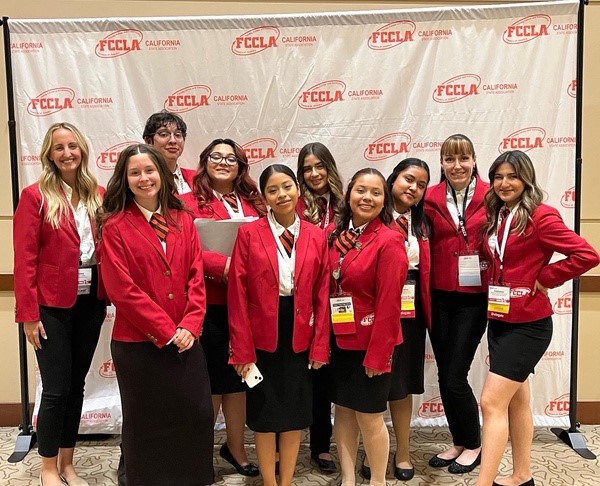 ---
May 11, 2022
Several Pioneer Valley High School Family, Careers and Community Leaders of America (FCCLA) members and advisors recently traveled to compete in the 75th annual FCCLA State Leadership Conference in Riverside, California. The event took place at the Marriott Hotel and Riverside Convention Center.
The students were Lizette Castro, Jacky Bautista, Savanah Guzman, Eden Garcia, Stephanie Aparicio, Kimberly Luz, Brianna Tapia and one regional officer, Javier Alvarez. The advisors included Jenn Montanez and Kelsey Dudding.
The theme of the 2022 conference, "Make it Count," was designed to inspire members to get out of their comfort zone and get involved in all the activities and events. The meeting included top-notch presenters, interactive student leadership sessions, Career Development Workshops, FCS Industry Tours, FCCLA Fashion Show, College and Career Show, and the State Finals Students Taking Action with Recognition (STAR) Events in over 26 team, and individual events.
Approximately 70 chapters, including 700 FCCLA chapter members, advisors, administrators, and business and industry representatives attended from across the state. FCCLA members competed for over $1.6 million dollars in cash and scholarships in leadership and career development competition events. This year, the following colleges provided FCCLA scholarships: Auguste Escoffier School of Culinary Arts, Culinary Institute of America, Fashion Institute of Design & Merchandising, Johnson and Wales University, and Sullivan University.
Panther Eden Garcia was awarded 1st place in Fashion Construction in which she received a cash prize, $15,000 in scholarships and a sewing machine, which was made possible by the support and mentorship from Advisor Melissa Diaz.
Panther Briana Tapia placed 3rd at state in the job interview event earning a $3,000 scholarship. She will take her project to the National FCCLA Leadership Conference this summer to compete once again against other students in the country.
"I wanted to thank my advisors, friends, and family for the constant support throughout region and state competition. I have gotten to experience many different things like making new friends, competing and being able to place. I can't wait to experience nationals and I'm very grateful to have opportunities like this during my senior year." - Brianna Tapia 12th grade
"Pioneer Valley FCCLA showed up big to the state leadership conference. It was an awesome experience to witness our students stepping into leadership roles during the conference; I am beyond
proud. Our competing students worked diligently to have a top-notch project to present at State! I look forward to the many opportunities coming their way!" – Advisor Jenn Montanez
Pioneer FCCLA member Kimberly Luz, competitor Brianna Tapia and advisor Melissa Diaz and Jenn Montanez are gearing up to attend the 2022 FCCLA National Leadership Conference which will be held from June 29–July 3 in San Diego, California.
SMJUHSD Media Contact: Public Information Officer Kenny Klein 805-709-1454 or kklein@smjuhsd.org