ERHS Student Signs to Play Basketball at Waldorf University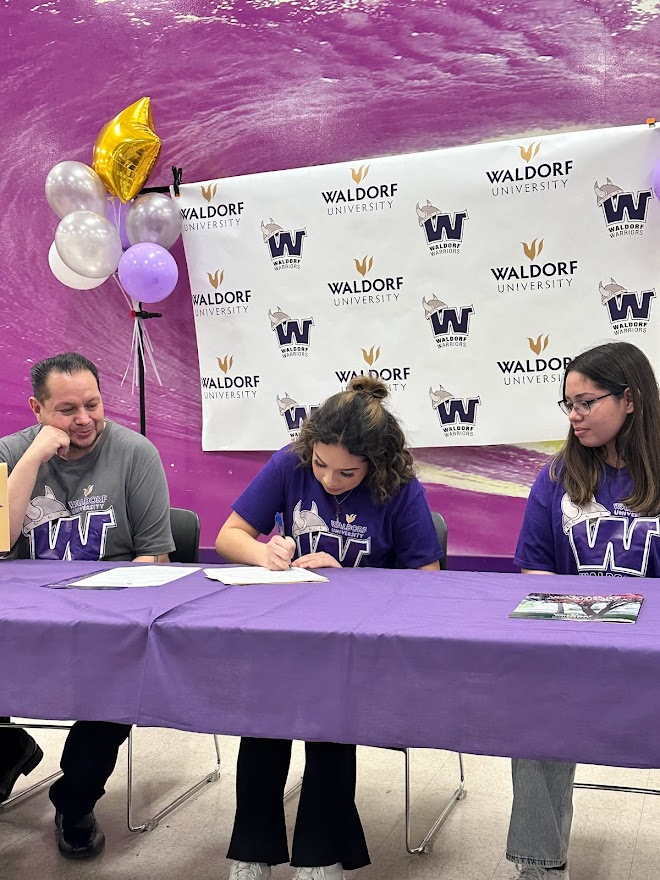 ---
Righetti High School's Sophia Laurel is taking her athletic and academic talents to Waldorf University next year.
Laurel, who is receiving an athletic scholarship, will play on the women's basketball team. She signed a national letter of intent on Monday night.
"I am very grateful for the opportunity to continue playing basketball at the collegiate level,'' Laurel said. "I'm very thankful to all my coaches, friends and family for supporting me throughout my journey.''
"I am so proud of the hard work that Sophia has put forth throughout her career at Righetti,'' said Warrior Varsity Girls Basketball Coach Desiree Hitch. "I know she will continue her success at Waldorf University. She is the type of player that every coach loves. She works hard, listens, and is a selfless teammate. I am very proud of her.''
For Hitch, Laurel is just one of many athletes she has helped guide to the next level since the start of her career in 2015-16. Hitch played four years of Warrior varsity basketball and graduated from Righetti in 2008. She then accepted a full ride to play basketball for Cal State LA.
Below are several athletes who have continued their athletic careers in college.
Courtney Barba: Eastern Nazarene College Kendall Bagby: Allan Hancock College Maya Armenta: Westcliff University Danita Estorga: Biola University
Ashley Reynoso: Cal State Monterey Bay Zane Sheckherd: Sonoma State University Alijah Paquet: Allan Hancock College Malia Cabigon: Eastern Arizona
Paityn Persson: Emerson College Alexandria Paquet: Allan Hancock College Madisyn Cutliff: Cal State Monterey Bay Sophia Laurel: Waldorf University
"If my players want to play in college, I do everything that I can to help them,'' Hitch added. "This includes reaching out to college coaches, creating highlight films for my players, and assisting them in sending e-mails to college coaches. Righetti High School has had more girls continue their basketball career in college than any other local high school."
In eight seasons, the Righetti Girls basketball program has accomplished 5 league championships, 4 state tournament appearances, and a CIF Division 1 Central Section Championship.
SMJUHSD Media Contact: Public Information Officer Kenny Klein 805-709-1454 or kklein@smjuhsd.org