SMHS Students Engage with AHC Puente Program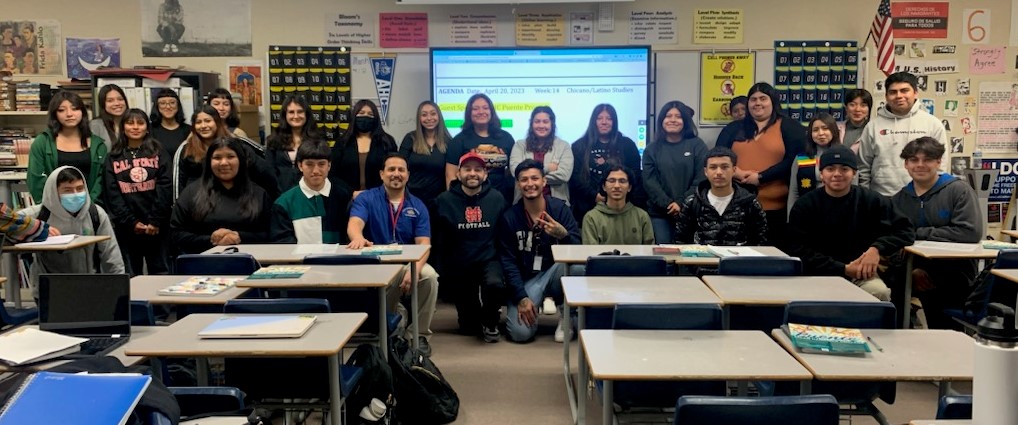 ---
SMHS Chicano/Latino Studies Seniors recently spent time learning about the Allan Hancock College Puente Program.
The program is designed to help students build the necessary skills for success in both academic and career goals while at AHC. Students enrolled in Puente work closely with their counselor, English Instructor, and mentor to prepare for transfer to four-year colleges and universities, according to Ricardo Navarrette, AHC Puente Instructor and Counselor.
During the outreach effort, current AHC students gave insightful presentations about succeeding in the higher education environment.
"I came to guest speak to SMHS students because I wanted to motivate others to continue their education after high school. Coming here from Mexico when I was 15 wasn't easy and I needed help from others. It's good to build community or "familia" at the college level too so that you can feel connected and part of something bigger. I really enjoyed the field trips to universities and getting support from my counselor." – Kevin Gonzalez, PVHS alum, AHC Puente student.
"I was once a student at Santa Maria High School and know how it feels during senior year to be undecided on your major. I wanted to speak with students who may be in my situation to let them know there are programs to help assist you in discovering a career path. I now want to be a teacher and have developed strong discipline in balancing work, school, and taking care of myself to be healthy and not overcome by stress. I enjoyed the readings in the Puente program from Latinx authors as well as my experience working with my assigned mentor." – Ana Lopez, SMHS Alum, AHC Puente student.
The Saints found the information engaging.
"I appreciate the AHC Puente students for sharing their stories with us. I know many of us could relate to other Latinx youth striving to reach higher education – but not always knowing the steps on how to get there. Seeing people from my community achieving academic success gives me hope for the future." – Stephanie Mendez, SMHS Senior who was recently admitted to many four-year universities.
"The Puente Program is a great fit for our first-generation students. This program offers just the type of culturally relevant and affirming mentorship that our community needs to thrive." – Ricardo Valencia, SMHS Chicano/Latino Studies Teacher.
SMJUHSD Media Contact: Public Information Officer Kenny Klein 805-709-1454 or kklein@smjuhsd.org