SMHS Students Visit Washington D.C.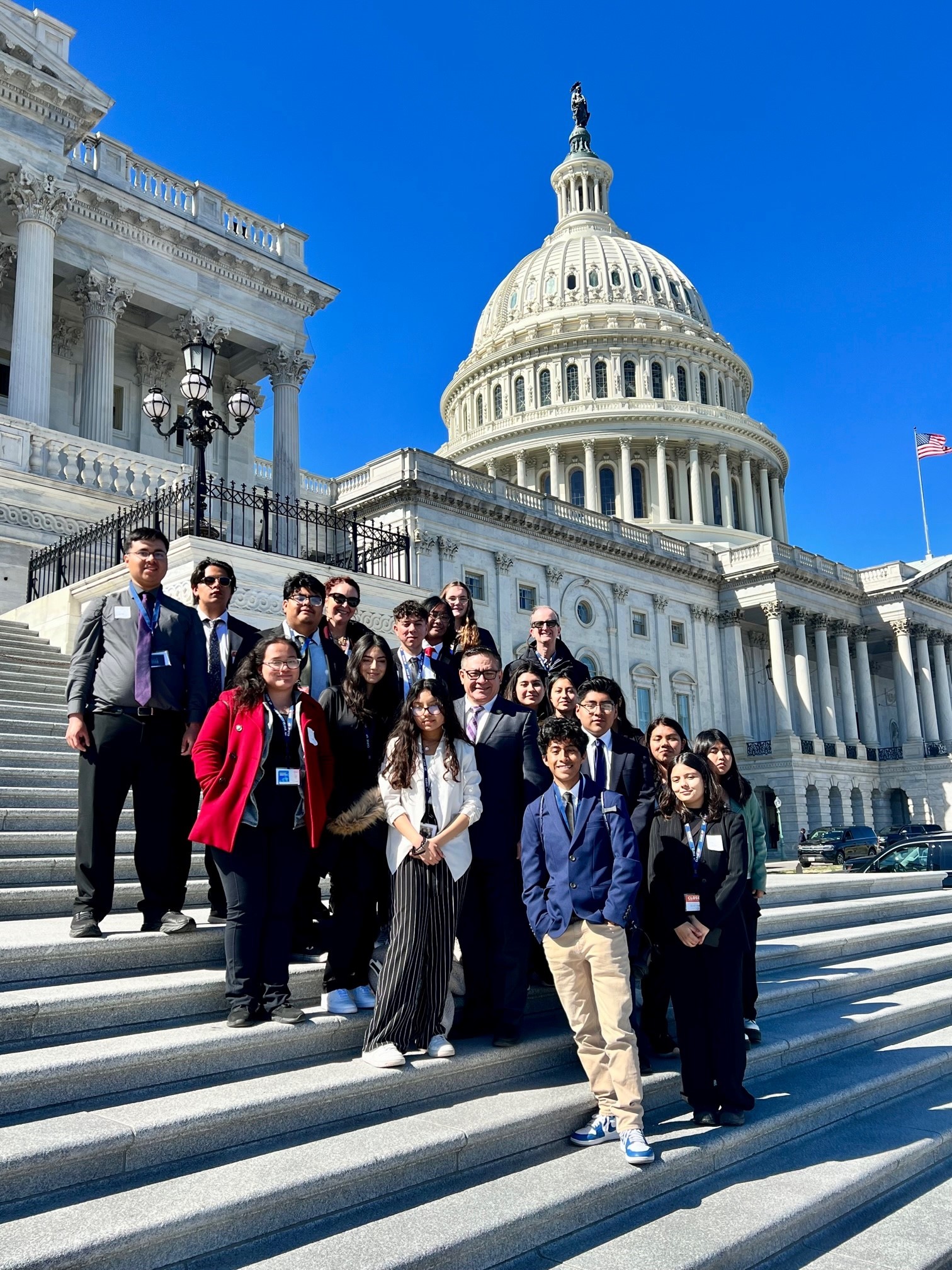 ---
Santa Maria High School Close Up Washington D.C. Club members returned last weekend after spending a week exploring the foundations of democracy in Washington D.C.
Students participated in numerous seminars, group discussions and debates. The Saints were paired with students from many other parts of our nation, including New York, North Dakota, Florida, Massachusetts, and several other areas. They also spent a day on Capitol Hill, visited the Supreme Court, monuments, toured the White House, watched a production of "Sheer Madness" at the prestigious Kennedy Center and met local elected officials.
"This exposure helped them to hear many different points of view and opened dialogue and debate on a variety of topics within the program, such as environment, immigration, and homelessness. It truly is an eye-opening experience for our students to meet other youth from such a variety of backgrounds and experiences and to have the opportunity to open healthy dialogue on important issues in our nation. Students learn the value of their own opinions and the importance of sharing their perspectives and making a difference in our world." - Teacher Amy Hennings.
"During the mock congress I got to be a con-lobbyist, and it was really fun. I got to convince a lot of people that DC should not be a state. It was interesting because I had to go around the room and convince as many "congressmen" as I could, to kill the bill. It was very fun because I had never understood exactly what a lobbyist did and taking on the role of a lobbyist, I was able to meet new people and learn many new things." - Kimberly Guerrero (12th grade).
"Meeting Salud Carbajal reignited my dream of wanting to be a positive symbol for Mexicans. His advice of changing people's perception of us by growing our numbers and involvement is something I 100% agree with and it's really motivating coming from him." Josue Ibanez (12th grade).
"Seeing someone like Salud Carbajal who has undergone similar experiences and background gives an example of what we can achieve in this country." - Armando Cruz Santiago (12th grade).
"We got to tour the capital building and see all the state statues in statuary hall. It was so pretty, and we got to learn about the history of when and how it was designed! After our tour, we got to go in the secret tunnels under the house thanks to one of Salud Carbajal's staffers, Tommy." - Kayce Van Horn (10th grade).
"After coming to know that the names of Santa Maria High School students who had died during the Vietnam War would be included in the Vietnam Memorial, I wanted to find their names. Seeing the number of names on the memorial made me overwhelmed but I was determined to find the name of Specialist Four Richard A Giovanacci. With some help from a volunteer at the memorial, I was able to locate the name. I was filled with happiness and honor to have gone to the same school as well has
having been able to find his name among the many who also lost their lives during Vietnam War." - Stephanie Santos Sanchez (12th grade).
"In a town where we're the only family with the "Ibanez" last name. I was filled with sorrow and honor to know I share a name with these brave soldiers." - Josue Ibanez (12th grade).
Students raised funds through numerous fundraisers this year, were awarded a grant from the Fund For Santa Barbara - Youth Making Change, and were given donations from The Santa Maria Noontimers Lions Club, as well as 5th District Supervisor, Steve Lavagnino to make the trip a reality.
The chaperones/group leaders were: Hennings and fellow teacher Richard Guiremand.
SMJUHSD Media Contact: Public Information Officer Kenny Klein 805-709-1454 or kklein@smjuhsd.org