ERHS Student Wins 'People's Choice Art Award'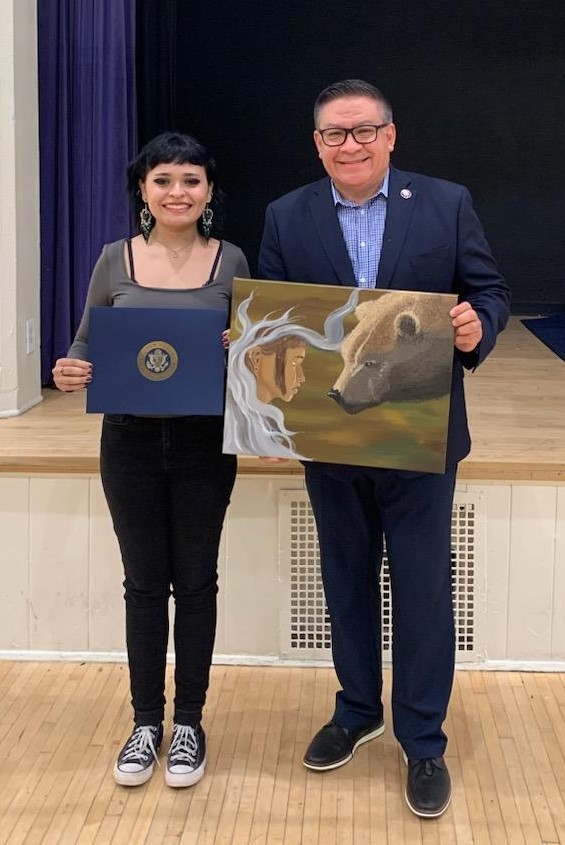 ---
Righetti High School senior and AP art student Eliza Haro recently won the 24th Congressional District's "People's Choice Art Award" for a painting about the power of nature.
Since 1982, the U.S. House of Representatives has sponsored a nationwide high school arts contest that is designed to encourage and recognize the talents of young artists. The winning pieces will be displayed in a regional art gallery show, where all participants and families are invited to attend and show their work to Congressman Salud Carbajal.
"I created my pieces in the perspective of my growth and the healing journey I've walked,'' Haro said. "In my Native American heritage (Gabrelino Tongva Natives), natural resources and the earth heal and support growth in many ways. Plants, and animals aren't just living beings but symbolize many things, like healing strength, bravery, and confidence. I've decided to portray this perspective by rendering plants and animals to represent the stages of growth I have experienced."
SMJUHSD Media Contact: Public Information Officer Kenny Klein 805-709-1454 or kklein@smjuhsd.org