SMJUHSD Students Participate in FBLA Conference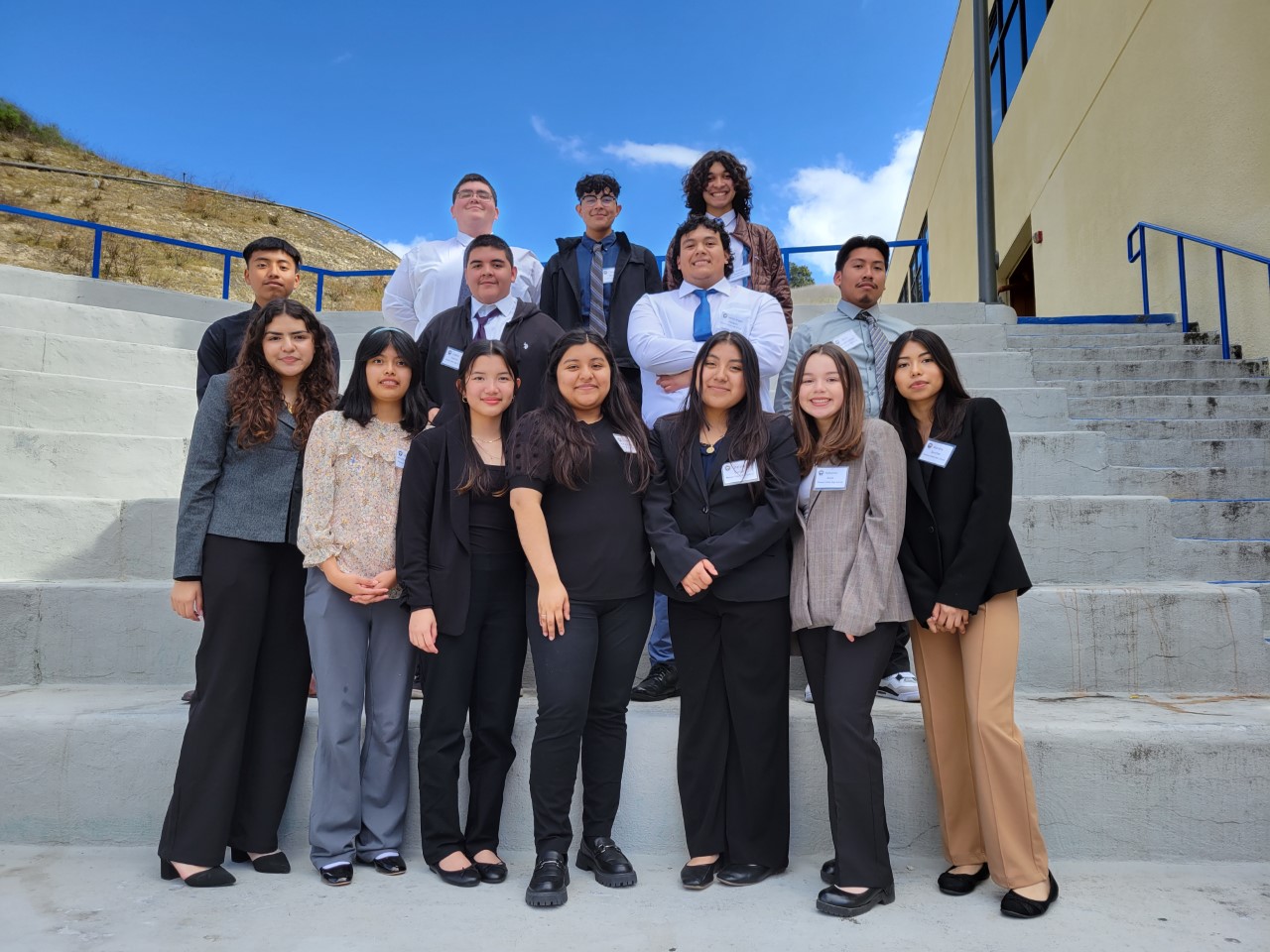 ---
Thirty-nine Santa Maria High School and fourteen Pioneer Valley High School Future Business Leaders of America (FBLA) students participated in competitive events at the Gold Coast Section Conference on Feb. 11th.
The Saints and Panthers competed in various business & financial, entrepreneurship and software systems development career paths to try and qualify for the state FBLA Leadership Conference in Sacramento, scheduled in late April. They took online objective tests during the week of Feb. 7th and 8th, and attended the conference on Saturday at Westlake High School in Westlake, CA.
"The Section Conference was not what I expected, it was truly an experience where I got to meet new people from different backgrounds,'' said Noemi Guerrero-Lucas, 11th grade. "Overall, I learned new information at the workshops to help impact my mindset."
"It was certainly a great experience,'' said 11th grader and state qualifier, Luis Bravo-Sanchez. "The school was nice and so were the people. The workshops were surprisingly informative for a 45-minute presentation. I give the conference a 10/10."
"It was fun, especially when the winners were announced and when everyone cheered and congratulated each other,'' said senior and first-time attendee Rene Lopez.
"My biggest highlight is earning first place in Word Processing and especially seeing other members in my chapter place at this section conference,'' said Andrea Martinez DeJesus, 12th grader and VP Community Service Officer. "I really look forward to studying and competing at the State Leadership Conference".
The teachers who accompanied the students were Cindy Quaid, SMHS Lead Adviser, Alejandra Fulton, SMHS Adviser, and Sandra Sylvester, PVHS Adviser.
Results of Santa Maria High School FBLA Members who placed in their competitive events:
Alexander Angeles (11th grade), Accounting I – 10th place

Abraham Carrillo-Galindo (11th grade), Public Speaking – 5th place

Armando Cruz Santiago (12th grade), Personal Finance – 8th place

Moises Hernandez Orozco (12th grade) Impromptu Speaking – 5th place / Personal Finance – 10th place

Jennifer Jimenez (9th grade) Creed – 3rd place

Luis Martinez Cholula (11th grade), Accounting I – 7th place

Reyna Morelos Garcia (11th grade), Insurance & Risk Management – 10th place

Anahi Santiago Lopez (12th grade) Job Interview – 7th place

Stephanie Santos Sanchez (12th grade), Accounting 1 – 8th place

Elizabeth Vasquez (9th grade), Intro to Public Speaking - 6th place

Team Events:
Miguelangel Garcia Hernandez, Jadyn Rios & Elizabeth Vasquez – Intro to Event Management 7th place

Johana Diaz-Toscano, and Melissa Hernandez – Hospitality Management, 10th place

Ricardo Cruz-Santos, Reyna Morelos Garcia, & Angel Villanueva-Cruz – Marketing, 10th place

Ricardo Cruz-Santos, Jose Saucedo, & Angel Villanueva-Cruz – Sports & Entertainment, 7th place
Below SMHS Competitors Eligible to Compete at the CA FBLA State Leadership Conference in Sacramento
Individual Events:
Luis Bravo-Sanchez (11th grade), Personal Finance – 1st place / Insurance & Risk Management – 3rd place

Dianna Jimenez (12th grade), Computer Applications – 1st place

Andrea Martinez De Jesus (12th grade), Word Processing – 1st place

Arleth Guzman Rodriguez (12th grade), Word Processing – 2nd place

Team Events:
Noemi Guerrero-Lucas, Arleth Guzman Rodriguez, & Rene Lopez: Business Management, 5th place

Johana Diaz-Toscano, Rene Lopez & Marisol Villegas-Ramirez: Entrepreneurship, 4th place

Results of Pioneer Valley High School:
• Adriana Ixmatlahua-Coxcahua, Business Management, 7th place
SMJUHSD Media Contact: Public Information Officer Kenny Klein 805-709-1454 or kklein@smjuhsd.org