PVHS FFA Attends National Conference in Indianapolis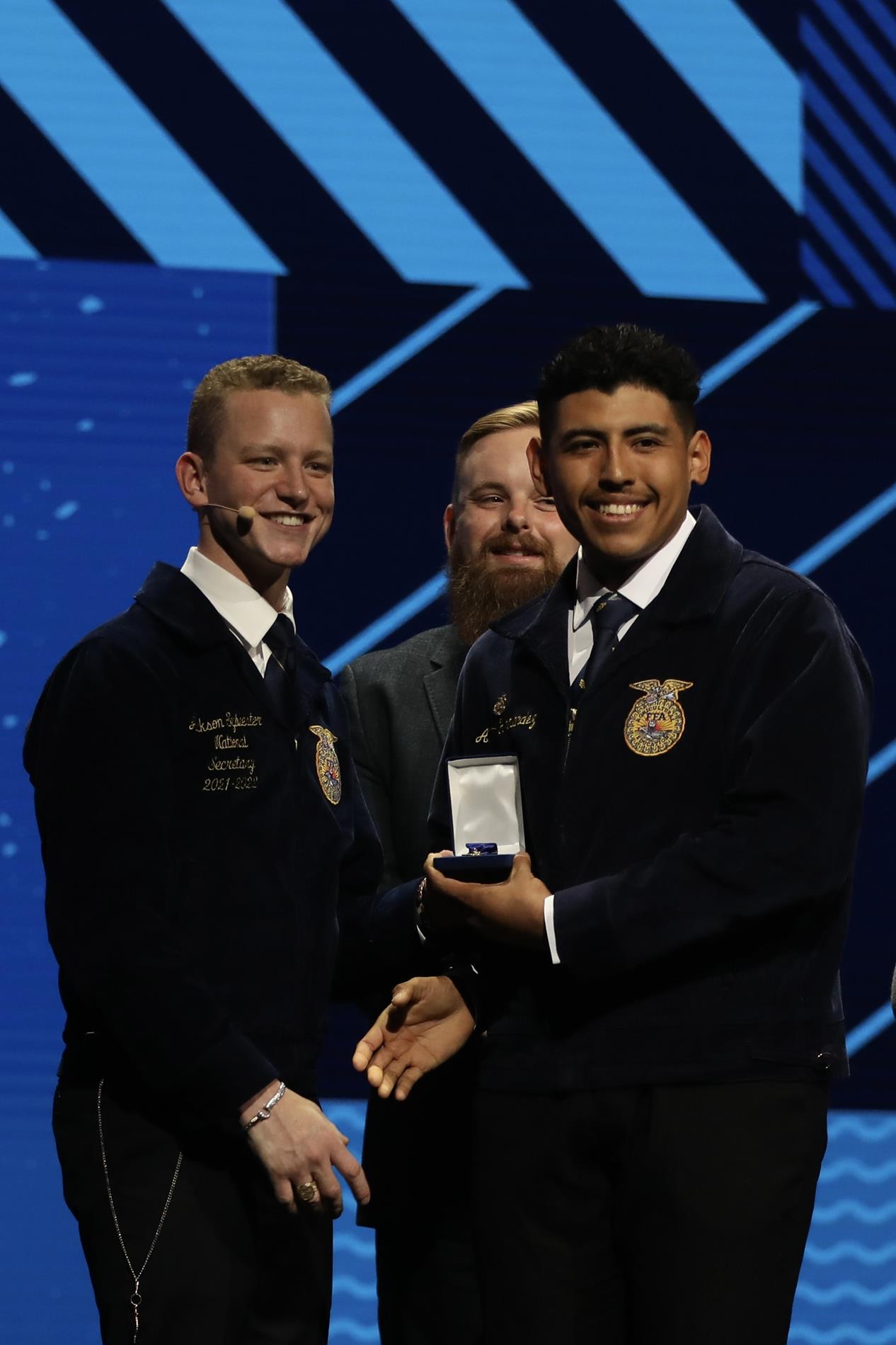 ---
During the 95th National FFA Convention, students from Pioneer Valley traveled to Indianapolis, IN to earn the Gold Standard of Achievement in the FFA organization.
Antonio Hernandez was named Western Region Champion and runner up in the nation in the Specialty Crop Production Proficiency Award area.
Agricultural Proficiency Awards honor FFA members who developed specialized skills in their Supervised Agricultural Experience projects (SAE's) that they can apply toward their future careers. Nationally, students can compete for awards in nearly 50 areas ranging from specialty crop production to wildlife management (National FFA). Students record detailed journal and financial entries, account for inventory, and develop a portfolio to showcase their project and skill attainment. Students are evaluated on their records, application, and through rigorous interviews with industry professionals.
For more than five years, Antonio has produced his own Indian corn and marigolds on his family's farm and markets them direct-to-consumer. During the fall months, fields of orange and colorful ears of corn are sold to community members and exported across state lines for Dia de Los Muertos. Antonio won the State title last March at the State FFA Convention and competed for National Proficiency Honors this fall. Antonio presented his project on the Student Success stage and answered questions from industry sponsors during the convention. He is currently attending the Universal Technical Institute on scholarship in the diesel mechanics program so he can better manage his family's farm equipment in the future.
Antonio says, "I'm proud to represent California, my hometown, and my family on the National level. I hope that this award will inspire other students and my younger siblings to pursue these opportunities in the future."
In addition to Antonio's success, Pioneer Valley also had five students earn the coveted American FFA Degree. "As the highest degree achievable in the National FFA Organization, the American FFA Degree shows an FFA member's dedication to the FFA Association. Congratulations to Marc Cabeliza, Hannah Limon, Jimena Diaz, Andrew Tinoco, and Adela Garcia on earning your Golden Key to the National FFA Organization. All of these students have earned or invested at least $10,000 in their Supervised Agricultural Experiences – ranging from crop production, agricultural education, goat production, and more. The American FFA Degree recipients show promise for the future and have gone above and beyond to achieve excellence.'' - (National FFA).
SMJUHSD Media Contact: Public Information Officer Kenny Klein 805-709-1454 or kklein@smjuhsd.org