SMHS Hosts Alumnus Guest Speaker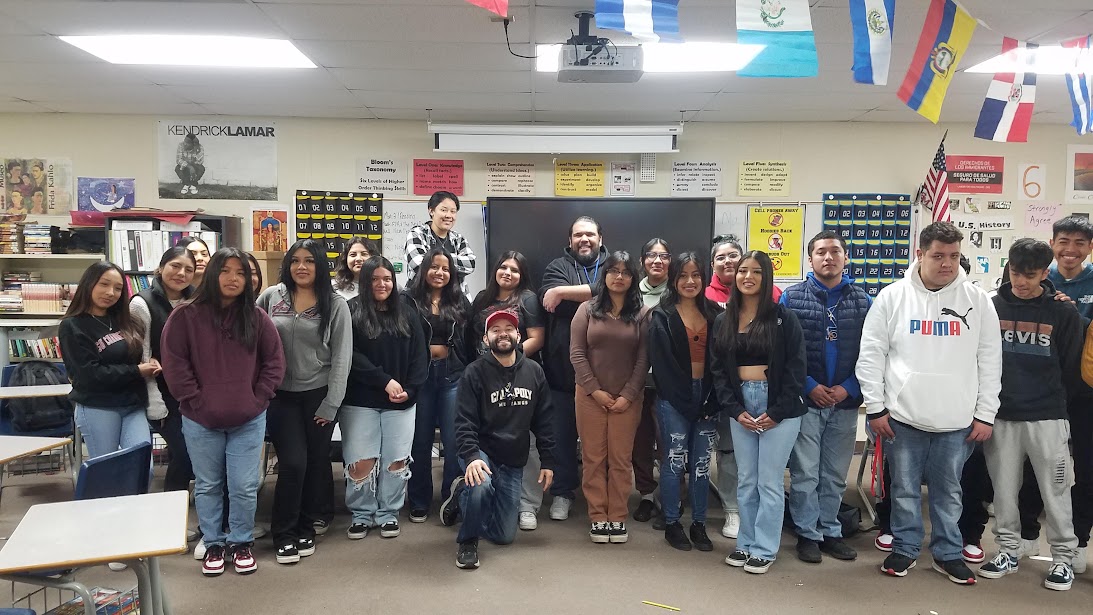 ---
SMHS Alumni Jeremiah Hernandez knows more than a thing or two about paying it forward when it comes to the younger generation.
He recently spent some time speaking to Saint Chicano/Latino Studies and US History classes about how he became an award-winning scholar at AHC and Cal Poly-SLO. Hernandez focused on the positive and relentless steps he took to make him academically and personally successful after high school.
The students found the motivational talks engaging and quickly related to the struggles of first-generation college students like Hernandez.
"I appreciate the chance to learn from Jeremiah,'' said senior Omar Alonso. "His story inspires me because I know that I am not alone in my journey to go to college and live my dreams. We need more opportunities to learn from leaders like him.''
"As a third-generation resident of the Santa Maria Valley, one of my life goals is to be of service and give back to the communities that have raised me,'' Hernandez said. "I am a proud alumnus of Santa Maria High School, Allan Hancock College, and Cal Poly San Luis Obispo, and have recently returned to Cal Poly to pursue a master's degree in higher education counseling and student affairs. Quoting the feminist scholar, Audre Lorde, "You become strong by doing things you need to be strong for. This is the way genuine learning takes place." When working with our youth, I aim to share my knowledge and experience in hopes that they too may pursue new and challenging opportunities in their lives."
"There are so many great leaders in our community of Santa Maria. Alumni like Jeremiah epitomize the Saints motto of "Enter to Learn, Go Forth to Serve". He reached out to me to inspire the next generation of SMHS graduates to dream big and not let any of life's challenges stop them. Jeremiah's educational trajectory was filled with adversity. He knows what it is like to bounce back from having low grades to becoming an honor roll student." - Chicano/Latino Studies Teacher Ricardo Valencia.
SMJUHSD Media Contact: Public Information Officer Kenny Klein 805-709-1454 or kklein@smjuhsd.org